Invaders Updates
Hey folks. Your newest hero should be Joel Kuester. He has come through with *major* contributions to the page. Check around here for all the new flyers, photos, information, and love he has supplied the site. The biggest things to look forward to are sound files from the State Fair show. Okay, so they have taken quite a bit longer than I had first anticipated. Please have patience. You can find the small amount of band news I have collected below. I'd like to thank Mike Barse for contributing the G-Man album picture and Brian Reich for letting me scan his two ancient flyers. I have a guestbook; please make use of it so I can know who finds this site. Remember, you can now reach this page at the url http://invaders.freeservers.com. Comments, suggestions, & help will always be appreciated. If you are as much of a junk-hoarder as I seem to be, you must have something hiding in your house that can be submitted to this page.
E-MAIL ME!
*CONCERT DATES*
The Invaders will be playing on Feb. 19 with
3 Minute Hero from MN at Moorhead State's ska fest.
They are planning to arrange shows on the 18th
& 20th to round out the weekend.

*NEW OFFICIAL WEBPAGE*
The new webpage is finally up!!!
The new address is http://www.skaville.com/invaders.
Check out the wonderful graphics but hey, don't
*completely* abandon my page!

*WAMI AWARDS*
As the main page announces, the Invaders
were awarded the 1999 WAMI for being Wisconsin's
BEST ska band.

*MEMBER UPDATES*
Ben can be seen playing bass in the Benjamins
and Woody now appears with the Probers. Stale is
playing with RPM. Max has mentioned working on a
new reggae project with Moises.

*INFO-LINE*
The Invaders have decided to keep their 24-hour
info-line up, despite their inactivity. Check it
out for random Milwaukee ska concert listings.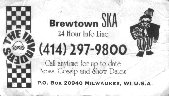 This page has been a creation.

My Homepage
brainonska@yahoo.com